Welcome to our hard drive: looking for savings and new business, banks and retailers bring customers onto their networks - Special Report - InFocus - Fleet Bank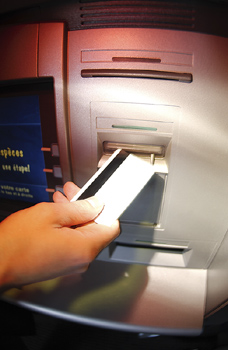 For digital projector maker InFocus, the problem was confounding: How do you get designers in Norway, contract manufacturers in China and Malaysia, and the front office in Oregon to communicate, quickly and efficiently? InFocus was already using the Web to get product information and promotions to resellers, but talking to time zones sometimes 14 hours away depends on a direct, interactive link, in this case a meshing of the company's databases with contractors like Flextronics and Funai. "If you have 20 or 30 products being made at any time on their line, you have lead times of 90 days and parts coming," says InFocus CEO John Harker. "You couldn't get it done on the phone. You need really to be talking computer to computer." The company turned to the latest version of Oracle's database software to bridge the gap, but it points to a growing trend. Companies big and small are inviting the world to hop on their networks, hoping to squeeze out inefficiencies and delays while strengthening the bottom line. Software giants like IBM, Microsoft, Oracle and the host of smaller companies are battling for part of the hundreds of billions of dollars in potential software and consulting fees. The solutions vary, from allowing simple office software talk with big companies' complex database systems to building specialized intermediary software. Not surprisingly, in the latter case, banks are filling the gap.
For the international bank Fleet, the make-it-simple strategy has been to do the complex negotiating between operating systems and software beforehand. Fleet's programmers take into account gaps in technology, banking bureaucracy, culture and specific sector needs. How might an Asian exporter get credit from a European bank to do business with a South American multinational, for example?
The result, Fleet says, is a simpler, smoother Web-based interface--one that automatically makes payments in a dozen countries, for example, or approves letters of credit--yet remains simple enough to use on the most limited of Internet connections. Once, banks depended on an effective, secure but very cranky international system known as electronic data interchange, or EDI, which worked fine as long as only banks used it. That is giving way, Fleet executives say, to an all-Web format that, once programmed, can keep clients' information percolating through even the most arcane global financial systems.
"There's nothing new behind this, we could send it EDI. But it's much easier over the Internet," says Jose Arnaldo Almeida Vieira, managing director and head of international cash management for Fleet, referring to the bank's payments solution. "We don't need to install software in all the countries. The customer doesn't need to have a specific computer. With a laptop and a cellular phone, he can approve payments."
Logic flow. Although strikingly logical--get computers to talk to each other better, and business speeds up--it nonetheless has deeper implications, says Robert A. Johnson, Fleet's executive vice-president for global trade and international cash management. Instead of creating a corporate marketplace, an idea whose heyday peaked with the dot-com craze, the digital world will start to more closely resemble the real world, Johnson suggests. Big companies with the most customers will call the shots.
"If you look back at 2000, we were talking about marketplaces, but it's probably going to be a payer model, a Wal-Mart, and all the small suppliers will have to follow the model," says Johnson. "That will start in the U.S. and migrate across the borders."
The people on the other side of the fence from the Wal-Marts of the world, the thousand of small companies that drive most countries' economies, are more likely to go along if doing so is cheap. That's the bet U.S. software giant Microsoft has taken, and its software strategy--specifically aimed at small suppliers intent on reaching the big customers--did not start in the United States, but in Mexico. It's becoming a battleground of its own: At press time, IBM launched a mid-priced version of its own business software, WebSphere, in a bid to beat Microsoft to the punch in the small and medium-sized business market.
Enter a couple of Mexican entrepreneurs, Julio Villasante and Enrique Zabal, who just before the dot-com boom were at work on a business-to-business software they thought they could sell to big companies. Eventually, the duo began to realize that it was small suppliers who wanted to reach out to potential big customers. Mostly, Villasante says, smaller companies were interested in getting more purchase orders from their large customers. "The value they perceived was not the technology only but the service provided," he says.
Villasante and Zabal first approached Microsoft not as a financial partner but as a technology partner, although the Redmond, Washington software giant eventually bought out the Mexicans and turned their software, now called bCentral in Latin America, into a core company product. The next generation of bCentral is being built in Redmond now, Villasante says, and will be launched under the brand name of the Microsoft Business Network in the second half of this year.
Refocus. Villasante and Zabal then started developing the product for the retail industry, what Villasante calls "sort of a low-hanging fruit" because retailers already understood business to business relations, since they buy so much, but also challenging, since retailers already had methods for communicating with their larger clients. The Mexican developers looked for ways to provide services every company would need, such as social security payments, distance learning and credit bureau reports. But they eventually refocused on sectors, branching from retail to insurance and now the automotive industry. "We started to realize that the small businesses in general were more interested in industry-specific issues," Villasante says.
Victor Gualdi is systems manager for 96-store grocery chain Supermercados La Anonima in Buenos Aires. The company has stores from Ushuaia to Cordoba, including nine distribution centers, which they have begun to link using bCentral.
La Anonima used to use an industry-specific software to register suppliers, but their success at getting suppliers onboard topped out around 20 suppliers, automating just 40 documents a day, around 5% of their normal flow of communication. In August 2002, the supermarket chain switched to bCentral, had it fully running by October and by December, 40% of the company's documents were online. By May, it was 85%. The company has almost 500 accounts in the system, or 90% of their suppliers, about as many as Gualdi expects will ever migrate to the new way since some companies, such as textiles makers, simply have too many idiosyncrasies in their products to go fully online.
The key, Gualdi says, was helping small suppliers to cut costs by connecting to the larger company through the Internet and familiar office software. "From the point of view of the supplier, the software is really simple," says Gualdi. "There's no need to train them."
Between 3,000 and 5,000 companies actively use the service, connecting to a series of hubs around Latin America using bCentral technology, Villasante says. The software takes advantage of the familiarity most small businesses already have with Microsoft's business suite, called Office, the most popular--and most widely pirated--business software on the planet. "Microsoft has a high level of piracy. People use Office but don't really pay for Office," says Villasante. "The focus was to actually produce value around these tools, to make it a more reasonable proposition to use and pay for the software and service."
Scaling up. Dense, complex data from big companies, such as an order for goods from suppliers, for example, is sent to a bCentral hub. There, it gets munched down into a format that can be read by anyone using Office's Excel spreadsheet program. Getting the data is not unlike downloading e-mail, says Villasante. The supplier can respond, sorting information on the spreadsheet and otherwise manipulating data normally.
Going back the other way, data entered on an Excel sheet can be programmed to automatically fill the various boxes of an order or invoice, which goes back through the hub and dumps its data into the appropriate boxes on the large company's back-office software, whatever it's maker. "For the [larger company] to really perceive value, they'd want to connect with the small counterparts as fast as possible," says Villasante. "It allows them to really scale that up."
Juan Felix Rodriguez, finance director for Corporacion Control, a Microsoft bCentral client in Mexico, has seen that firsthand "Many of the suppliers don't have even Internet, or an internal billing system. This is the reality. They're not Colgate or Unilever," Rodriguez says