New name, financing for Genesee Inn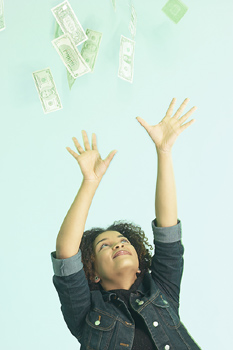 SYRACUSE - The former Genesee Inn has been renamed The Genesee Grande Hotel, at move designed to emphasize its upscale nature.
The hotel and its owner/president, the developer Norman Swanson, have secured $10 million in permanent financing that will enable The Genesee Grande to begin construction of a $6 million, 50,000-square-foot, hightech conference center and reception facility located at the New York State Armory across East Genesee Street.
The Genesee Grande closed on the $10 million mortgage from Galveston, Texas-based American National Insurance Co. (NASDAQ: ANAT) in the second week of September, says Swanson. The loan term is 20 years, with a fixed interest rate of about 6.5 percent for the first 10 years. After that, a balloon payment for the remaining balance is due, says Samuel Berns, president of Rochester-based First Monroe, Inc., the mortgage banker that arranged the loan.
Besides providing seed capital for the conference center, the proceeds of the loan will be used to repay a $6.5-million construction loan the hotel secured from BSB Bank two years ago to finance the $10.5 million renovation of the main hotel.
"It allows us to pull back out a lot of the cash we had invested and start investmg that cash in our armory project," Swanson says. He will also pursue further financing for the project but will probably wait until next spring. The amount he'll seek depends on interest rates - the lower the rate, the more Swanson will borrow, he says.
The conference/banquet center that The Genesee Grande plans to build will be able to seat and serve up to 800 people for dinner and accommodate parking for 500 cars. The meeting space can also be subdivided for smaller groups of about to 100 to 150 people so that multiple events can be held simultaneously.
Swanson says the size of the facility will give The Genesee Grande a leg up on its downtown-hotel competitors because "most of the downtown hotels max out at 200 people."
The hotel I seek large social functions from all over upstate New York including weddings, bar mitzvahs, refirement parties, and corporate and non-profit banquets. "We will have a very elegant and European feel to the facility that will attract people from all over," Swanson says. The facility also will feature high-tech audiovisual and wireless-Internet capabilities.
Swanson's Woodbine Group is handling the construction. The entire interior of the armory will be demolished and gutted, starting in November. Construction will take about one year, and Swanson says the facility will be ready in time for New Year's Eve festivities in 2005.
The armory project's lender, American National, is a nationalinsurance and financial-services (including commercialmortgage loans) firm with $16 billion in assets. It generated $1.5 billion in revenue through the first six months of 2004. American National started making loans in the upstate New York market about two years ago, but this is the firm's first one in Syracuse, says First Monroe's Berns. First Monroe and American National have closed five commercialmortgage loans together, totaling nearly $30 million, in Western and Central New York so far this year, says Berns. The other four were in either the Rochester or Buffalo areas. First Monroe is a 17-year-old firm that arranges commercial mortgages, financed by insurance companies, across upstate New York and in parts of Pennsylvania. The firm's annual loan volume is about $120 million, Berns says. It has done "a lot of business" in Syracuse, he adds.
After the events center is completed, The Genesee Grande will have to hire another 150 full-time and part-time employees to staff it, says Swanson. The Genesee Grande currently employs 115, and will be increasing that to 125 in the next several weeks as it needs more people to meet its growth.
The Genesee Grande is averaging a nightly occupancy rate of between 60 and 70 percent, Swanson says. "The occupancy is building," he notes. "We've only been fully open for three months."
The hotel's wedding-reception business is booming. Swanson says every wedding date at the hotel is booked through late 2005, and it has started accepting reservations for receptions well into 2006.
What's in a name?
On Sept. 1, the hotel's name change took effect. Swanson says he and management spent seven months working on developing the rebranding effort. "It's a new name that suits the facility we created," he adds.
The hotel completed its $10.5 million renovation project about three months ago. The project was done in about seven stages and took two and one-half years to complete. "We gutted and replaced everything one step at a time," Swanson notes.
The upscale, 160-room hotel includes 100,000 square feet of Brazilian granite and custom-built furnishings from around the world as well as antiques Swanson purchased for the property.
Each room has a different design scheme, the opposite of the consistent design used in chain-hotel rooms. Swanson's daughter, Charity Swanson Buchicka of Elan Interiors, designed each room's interior.
In designing the hotel, the Swansons incorporated elements from fine hotels all over the world. The Genesee Grande offers several room configurations designed specifically for business travelers. There are several suites that combine a large executive suite with a smaller room for an assistant. Both rooms share a single exit to the main hallway and allow for collaborative work without having to wander down a hallway. A special section of the hotel features a lounge and 24-hour honor bar for guests who opt for a higher service level.
The hotel dropped its affiliation with the Golden Tulip worldwide network of hotels last January. "We believe strongly that our type of hotel does not need a national flag," says Swanson. He notes that the hotel receives about 45 percent of its reservations online whereas the typical hotel attracts about one-third that number.
The hotel has built a new Web site, www.geneseegrande.com, that "sends an image about who we are. We are selling an elegant, upscale experience," Swanson says.
The Genesee Grande hired Syracuse-based marketing and advertising firm Cowley Associates to help it with the rebranding and Web-site development, says Swanson.